Mindful State Yoga is dedicated to the health and wholeness of our community.
Our mission is to promote health and wellbeing for ALL in this space of authentic community
where minds and hearts are open, diversity is celebrated, and everyone is honored.
We look forward to practicing with you!
BOOK A CLASSBOOK A CLASS

MINDFUL STATE YOGA COVID-19 Procedures - What to expect:
To protect and support the well-being of our community, we ask that all students wear a face covering unless you are on your mat. Please place your mat on a designated spot, spaced 6' apart. Students must bring their own mat. MSY does provide props, or you may bring your own. Premium mats and props are available for purchase in the studio lobby.
We will be using Force Of Nature brand disinfectant which is non-toxic and is approved and included on the Environmental Protection Agency's "List N: Disinfectants for use against SARS-COV-2, the virus that causes COVID-19" For more information:
https://www.forceofnatureclean.com/ref/mindfulstateyoga/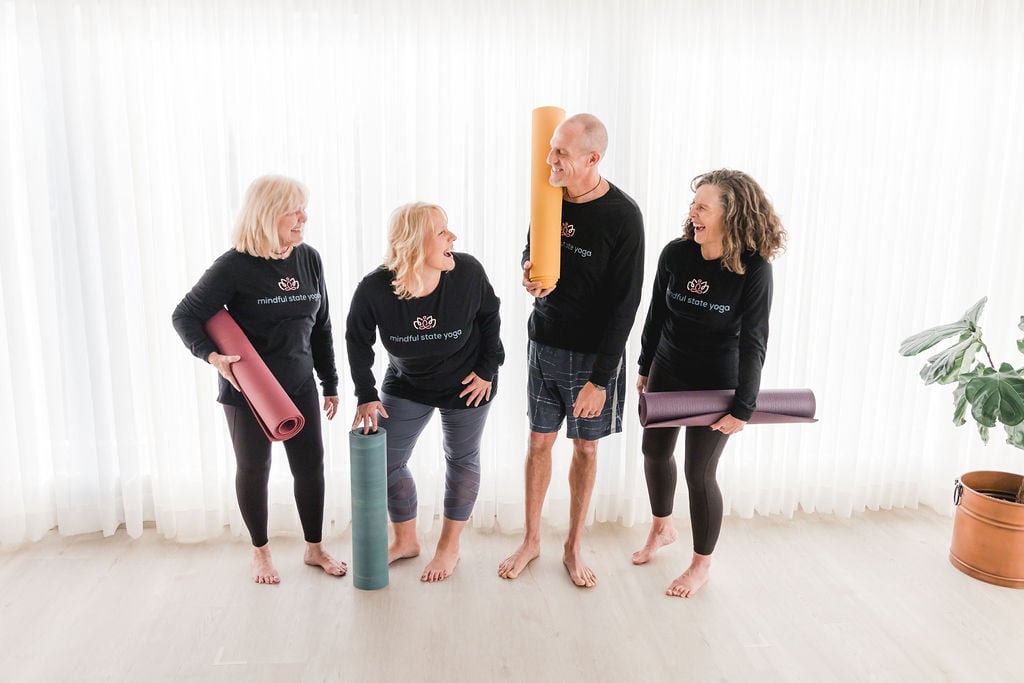 root – an inclusive foundational practice

This grounding, centering class focuses on the fundamentals of a yoga practice. With emphasis on the safety principles of alignment and building poses from the ground up, we will explore basic yoga postures and yogic breathing practices. We will gradually build strength, core awareness, balance, flexibility and endurance during this inclusive, foundational practice.
rise – a hatha practice for balance & strength

This hatha-style yoga class focuses on slow mindful movement connected to breath. This slower, yet steady pace gives you time to explore and move deeper into poses, elevating your practice. This practice is designed to deepen awareness of the mind/body while building strength and flexibility.
flow – a revitalizing vinyasa practice to build endurance

This Vinyasa style yoga class synchronizes breath with movement as we flow through an intentional sequence of poses. Designed to develop muscle tone and increase endurance, this class will keep you moving while using the breath to guide the practice.
surrender – a yin practice connecting breath with deep release

This yin-style yoga class is designed for those who desire deeper stretches in the body and the felt sense of flexibility and learning to let go. In this class, we focus on static movement and breath work, gently moving into the connective tissue and holding passive yoga poses for longer periods of time.
release – a restorative practice for stress relief & deep relaxation

This restorative-style class supports you in deep relaxation. Using props that allow you to deeply relax, gentle poses are held for longer periods of time to invite the release of stress, to nourish and restore the body/mind.
be - a mindfulness meditation practice to soothe & focus the mind

This 45-minute mindfulness meditation class is designed to cultivate awareness, concentration, emotional stability, and compassion. Experience a variety of guided meditation practices including breath awareness, body scan, mindful movement, self-compassion, and lovingkindness. The qualities cultivated in BE are woven throughout all of our yoga classes.
support
This gentle yoga class is practiced using chairs for support in various postures, and is designed to mindfully increase range of motion while meeting students where they are.
Without having to get up or down off the floor, this class is ideal for students who need extra support as they increase mobility, flexibility and balance on their healing journey.
core
This core-for-life class is an all-levels, 45-minute class focused on building strength, stability and safety for your practice and your life. Core muscles play a role in almost every movement we make; picking up the children, tying our shoes or standing tall and firm in tree pose. This practice will help you find inner strength, increase stability and balance, improve posture, and enhance low back and pelvic floor health.

root + flow

This centering, flowing style practice combines the foundational principles of a safe and effective yoga practice with fundamentals of vinyasa flow. Pairing breath with movement, we will explore stability while building poses from the ground up, working to increase internal strength, core awareness, balance, endurance, and flexibility. A variety of progressions and modifications may be utilized so that all participants may find a balance between effort and ease during the practice.
core for life 45

This 45-minute class is focused on building strength, stability and safety for your practice and your life. Core muscles play a role in almost every movement we make; picking up the children, tying our shoes or standing tall and firm in tree pose. This practice will help you find inner strength, increase stability and balance, improve posture, and enhance low back and pelvic floor health. This is an All Levels class.
thrive

Our THRIVE yoga class is perfect for those who wish to enhance or restore health and wellbeing. Many studies show benefits of yoga for all ages and that yoga is a great tool for healthy and active aging. The contemplative aspect of just settling down and joining movement with breath can reduce stress and enhance peace of mind. Let us THRIVE together to maintain physical functionality, seek a calmer spirit, and increase the joy of living each new day!

empower

This centering class combines flow yoga with elements of Pilates to build stability, functional strength, coordination, mindbody awareness, stamina and flexibility. A combination of yoga flows synchronized with breath and functional movements, this steady and balanced practice creates harmony in the mind, body, and breath. Special emphasis will be given to posture, core strength, pelvic floor, shoulder stability, and low back health for empowered and easeful living. A period of final relaxation/meditation will conclude this well- rounded, mindbody practice.

rest

This class is designed to elicit deep relaxation in the bodymind. We will begin each practice with 15 min of mindful flow. We will then engage in a deep, restful yoga nidra meditation practice for remainder of the session. Yoga nidra is a type of guided meditation practice that allows the nervous system to reset and repair. Yoga nidra is a perfect remedy for sleeplessness and restlessness. Studies indicate that 45 min of yoga nidra is the equivalent to 2 hours of conventional sleep.
Participants are encouraged to bring cushioned mats, pillows, blankets, layers, sleep masks, and any other comfort item that can be used to help with relaxation.
balance
This safe, inclusive, flowing-style class is the perfect balance of internal heat/endurance building (elevating flows), strength/stability, standing balance, and core work (longer holds), and relaxation/restoration practices (flexibility/mobility). Using yogic teachings/philosophy/intentions to guide our practice, we will use similar repetitive flows/holds for a few weeks, w/options for modifications, to build muscle memory and to explore progression in our practice. We will also dive deeper into various breathing practices to help bring about balance in the nervous system. A variety of tools will be offered to allow us to find harmony between effort and ease in our practice. Options for active strengthening, flow, and rest will be given throughout the practice, so that the participant may make choices for his/her individual practice, based on what is needed for that particular day. This class is appropriate for anyone who desires to find more balance, both on and off the mat.
Suggested props: yoga mat, strap, block
Optional: blanket and/or bolster; journal and pen
Students of all levels/mixed levels are welcome, and the instructor will direct students to find the postures that work best for their individual practice. Students will be encouraged to honor their body and rest and move as needed. However, those new to yoga or those with a specific physical / injury concern might begin with a different class.
rise and be

A blend of breath practice, mindful movement and meditation, this class is designed to deepen awareness of the body and mind while building strength, flexibility, concentration, emotional stability, and compassion.
Skill Levels
Many of our classes are offered at different skill levels so that you can choose the pace and intensity of your practice. Check the current schedule for availability.

Level 0 –Designed to soothe, relax and restore with postures on the back, belly, and booty.
Level 1 – Beginner friendly and perfect for all practitioners seeking a slow and steady pace with plenty of instruction and modifications offered to give you an understanding of basic asana (postures), alignment, and yogic breath practices.
Level 2 – These classes move with a moderate pace and level of intensity for the intermediate student. Sequences will include progression toward more advanced postures and variations, including balance and core work. Well balanced, these classes are a blend of strength, flow, and rest.
Level 3 – These classes offer a vigorous pace and higher level of intensity for the advanced student. Guaranteed to produce heat, these strong vinyasa flow (one breath + one movement) sequences include opportunities for arm balances, core work, and more complex asana. Previous yoga experience highly recommended.
Level All - Come as you are! All Levels classes are suitable for beginners and experienced students. Intermediate and advanced options will be given and you are encouraged to take variations that suit you best.
Mixed level - If a class is listed with a combination of levels, for example "1-2", the class will be primarily level one with some elements of level 2.
Class Pricing
ALL ACCESS MEMBERSHIP

- $80 per month

- unlimited in-studio classes

- 10% discount on gear and apparel

- pop-up classes for AA members only




One year contract, with monthly auto-pay required

(via credit/debit card.)

CLASS PACKAGES

- Single class: $15

- 5 classes: $70

- 10 classes: $120









GRATITUDE DISCOUNT for teachers, students, first responders, & those over 65 years of age. Contact the studio for more information or to purchase.
SEMESTER PRICING: $300 (09/1 - 12/31 or 02/01 - 5/31)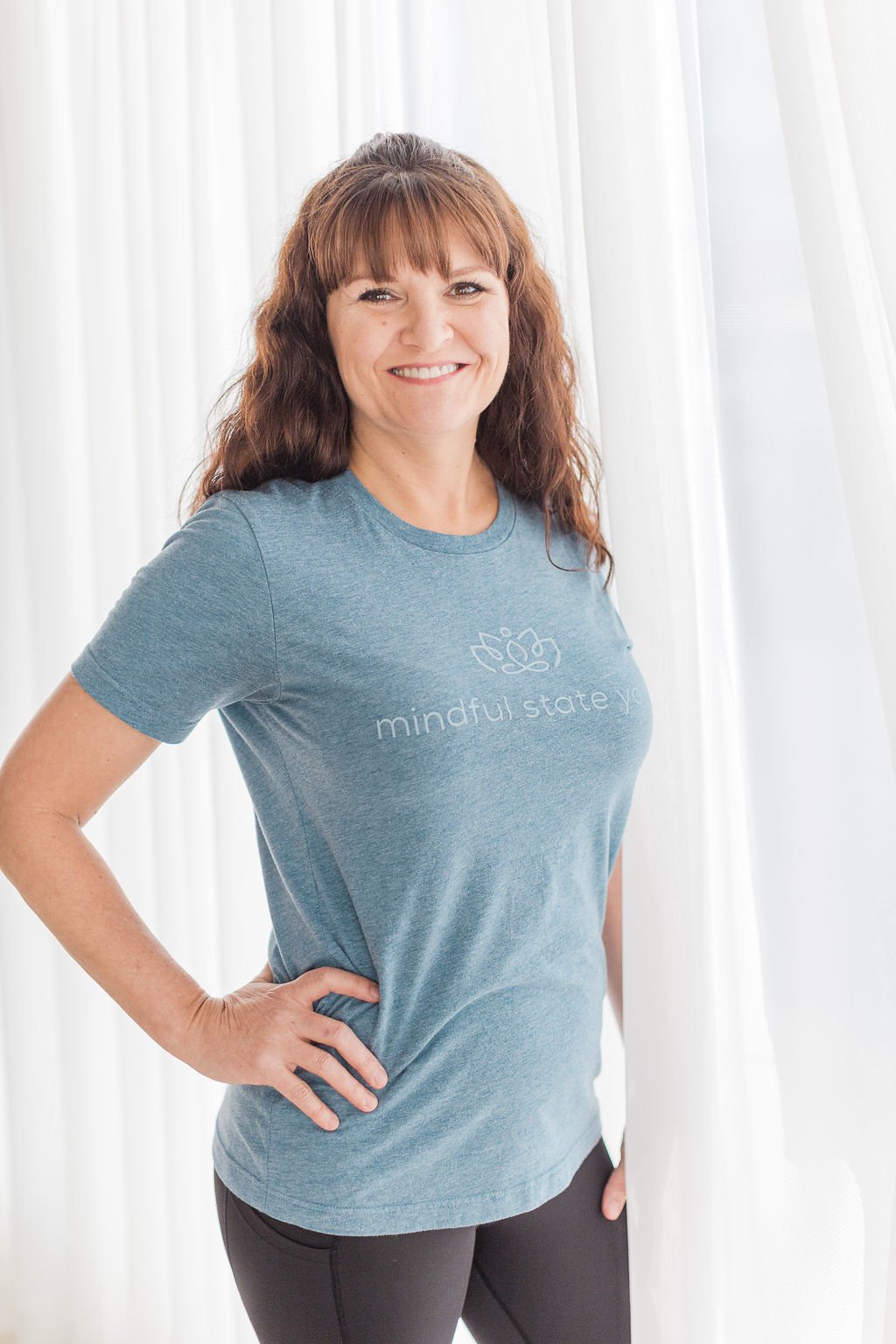 Jennifer first discovered yoga in 2003. She realized it was more than just physical practice, it was also a way to reduce stress and create the presence she needed in her own life. Yoga has improved her strength, flexibility, and also taught her to be still and listen to her own body. She continues to deepen her knowledge and has a passion to share it with others.
Jennifer completed a 200 hour teacher training program in 2018 and has been grateful to be a Yoga Alliance certified teacher since.
| | |
| --- | --- |
| | For Stephanie, yoga has been a central practice as she healed from the many years she spent judging herself and her body, feeling disconnected from her inner knowing and her body's wisdom. Through yoga, she has learned both self-acceptance and how to lean gently towards growth. Her personal practice has increased her strength, flexibility, balance, and mindfulness, and she incorporates these elements in every class she teaches. Her intention is to inhabit her body with grace, strength, and ease, and to model these traits for her students. Stephanie holds an RYT 200 certification through Yoga Alliance. She is also an English professor, a certified Life Coach, and a Reiki II practitioner. |
Jenny J. Edwards, M.S., RYT-500; ERYT 200; YACEP



Jenny found her love for yoga many years ago after searching for a way to quieten her mind. Along the way, she found the physical benefits from the practice as well. Jenny participated in her first yoga teacher training in 2013 with Yogafit Worldwide Training Systems, Inc. and she began spreading the practice of yoga shortly afterward.

Jenny holds an RYT 500 through Yogafit Worldwide Training Systems, Inc. She is an experienced registered yoga teacher through Yoga Alliance, RYT-500; ERYT-200. She is also certified through the American Council of Exercise as a Group Fitness Instructor. In addition, Jenny received a teacher training certificate through Yogafit for Warriors in trauma sensitive yoga. Jenny is also a Master Trainer for Yogafit Worldwide Training Systems, Inc.

Jenny enjoys supporting people in the integration of mind and body through the breath, postures, and movement, whether that be in a private yoga session or a small group class. She is grateful to be a part of the Mindful State Yoga team!

Jenny is a certified, pediatric speech-language pathologist of 20+ years and specializes in early intervention. She enjoys the sunshine, live music, dancing, good food, and traveling.
| | |
| --- | --- |
| | Lisa first discovered yoga over twenty years ago when she was pregnant with her youngest child. In 2013, after she experienced the powerful therapeutic effects of yoga during a difficult divorce, she decided that she wanted to share yoga with others. Lisa completed her RYT-200 yoga teacher training with Sage Yoga Schools in Little Rock, Arkansas, and has also completed training with YogaFaith's Adaptive program. YF-A focuses on teaching yoga to those with prosthetics, people who have larger bodies, and others who may need more specific modifications in order to enjoy yoga. Lisa's classes focus on creating a welcoming, non-judgmental environment, and she believes that yoga is truly for everybody and is also for every BODY. Her goal is to help people get out of their head, reconnect with their bodies, and feel comfortable in their skin. Lisa is completing a masters in Clinical Mental Health and hopes to incorporate yoga therapy into her counseling practice. |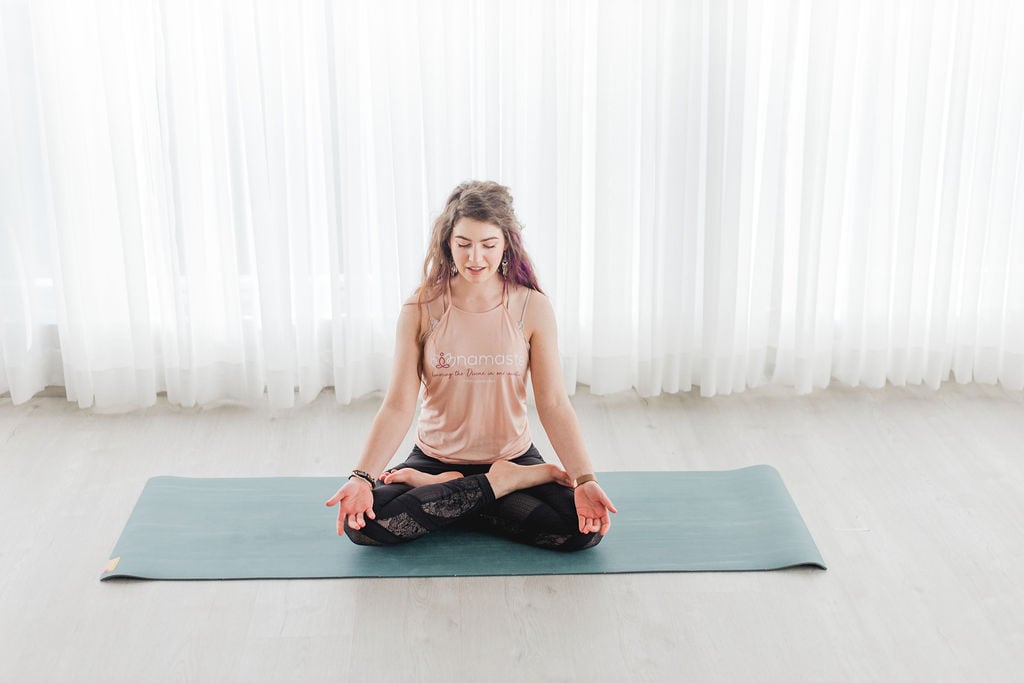 Natalie took her first yoga class in 2007 and discovered a form of exercise that provided numerous mental and spiritual gifts (a pleasant surprise!) in addition to the more obvious physical benefits. However, it wasn't until the intensity of isolation, loneliness, and pain faced in the COVID-19 pandemic that she really began investing in the practice—turning to it time and time again to cope with the darkness and uncertainty of the world during that time. She came to realize how important developing a consistent practice was to grounding in the here and now, building her sense of self, becoming vulnerable, releasing fears, speaking her mind, and learning how to walk through life in love and joy and purpose. Through this murky period of self-discovery and change, Natalie chose to step out and complete her 200 hour yoga teacher training to deepen her understanding of yoga—and she is so grateful she did! She has learned so much and that there is so much more to learn! She is eager to share her knowledge with anyone willing to listen, and is so honored to be teaching a beginner's yoga class here at Mindful State Yoga!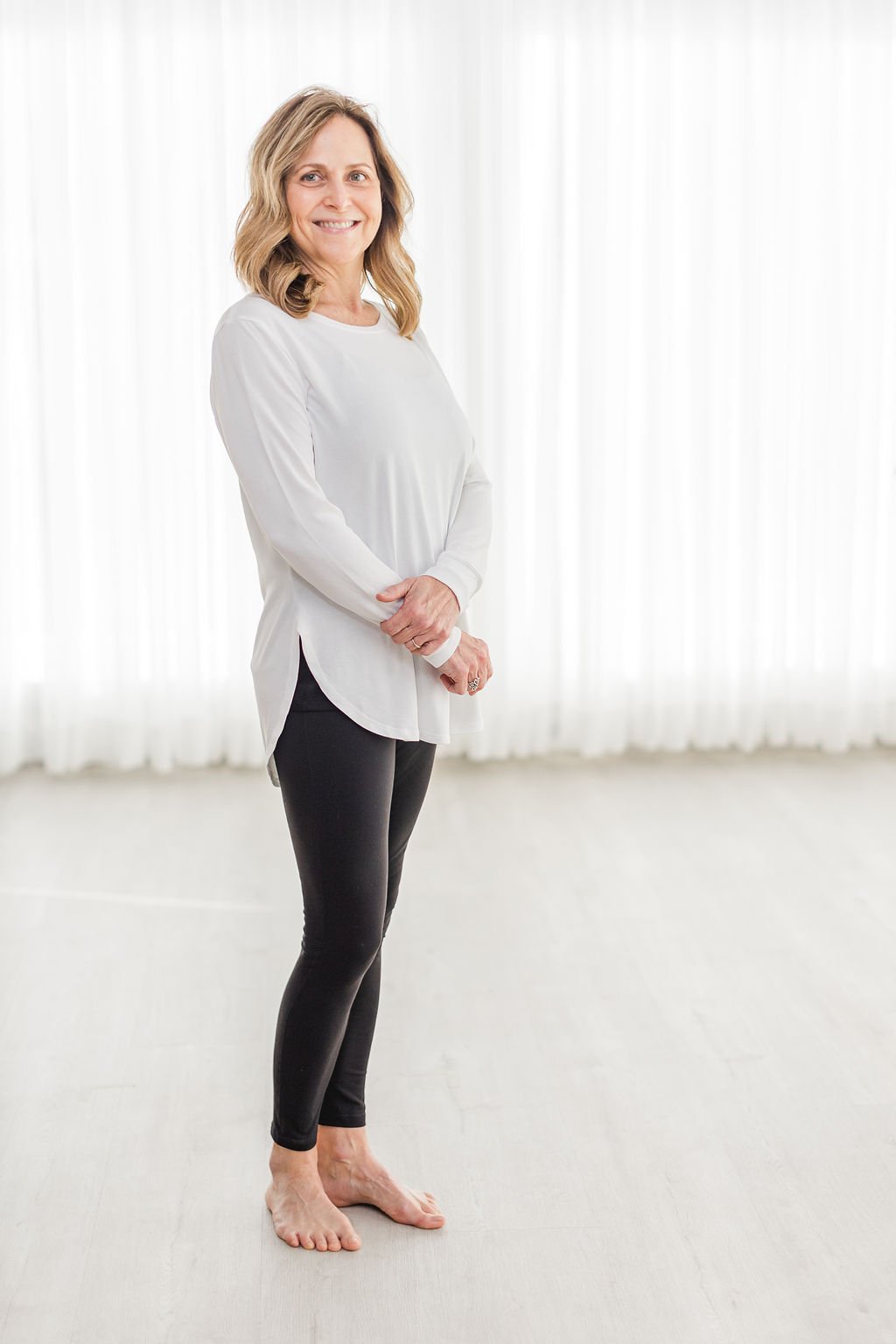 Anna may be new to teaching, but she's not new to yoga. She began her home practice in the late 90's and found her way to her first studio class in 2005, learning and growing under MSY's very own Kelly James. Practicing with Kelly led Anna to discover how much she enjoyed holding space with other students and taught her the importance of proper alignment. Over the years, Anna has found that practicing with a variety of teachers has nurtured her growth as a student of yoga.
Anna has been a self-employed hairstylist for many years, so staying active is important to her since her profession can be physically demanding. Yoga has helped her with stress, mobility, flexibility, stamina, and mental and physical balance--all benefits she hopes to teach her students. Anna wants her students to know that they should feel welcome to come to yoga as they are and that all they need to practice is their breath. Anna is a Yoga Alliance certified RYT 200.
| | |
| --- | --- |
| | Kelly's first yoga practice was in the summer of 2003, and she fell in love with yoga with her first forward fold. Very soon afterward, Kelly completed her RYT- 200 and has been teaching anywhere from 4 to 12 practices a week since then. Kelly recently finished her 300-Hour Yoga Certification in Holistic Practices through Balance Yoga and Wellness. She is trained to teach Hatha yoga, prenatal yoga, and yoga for health care. Kelly has practiced yoga all over Europe, Asia and the United States. She loves learning from other teachers and then bringing that knowledge back to her students. Kelly's goal for her classes is to get her students in proper alignment through her words and her subtle, gentle adjustments. She is passionate about helping others feel better; move with more ease; open their minds, bodies and Spirits; and live a more peaceful, balanced life. |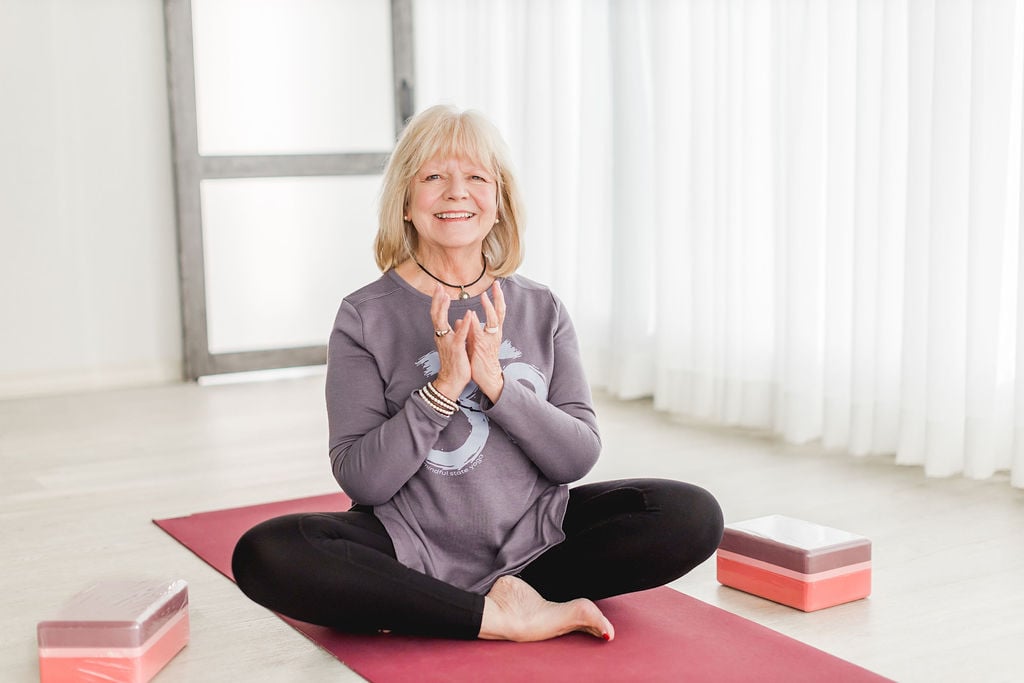 Teresa is a 30-yr. breast cancer survivor. At 55 yrs. old, she experienced her very first yoga class. Motivated to share the healing power of yoga with other cancer survivors, Teresa began the yoga teacher training program at the Arkansas Yoga Center in Fayetteville, Arkansas, and became a registered yoga teacher through Yoga Alliance in 2007, a decision she counts as one of the best in her life. Teresa believes everyone should strive to be healthy in body, mind, and spirit, and her goal is to introduce as many people to a yoga practice as possible. She views yoga not as exercise but as a way of life, and it is her passion to help people manage their stress and anxiety.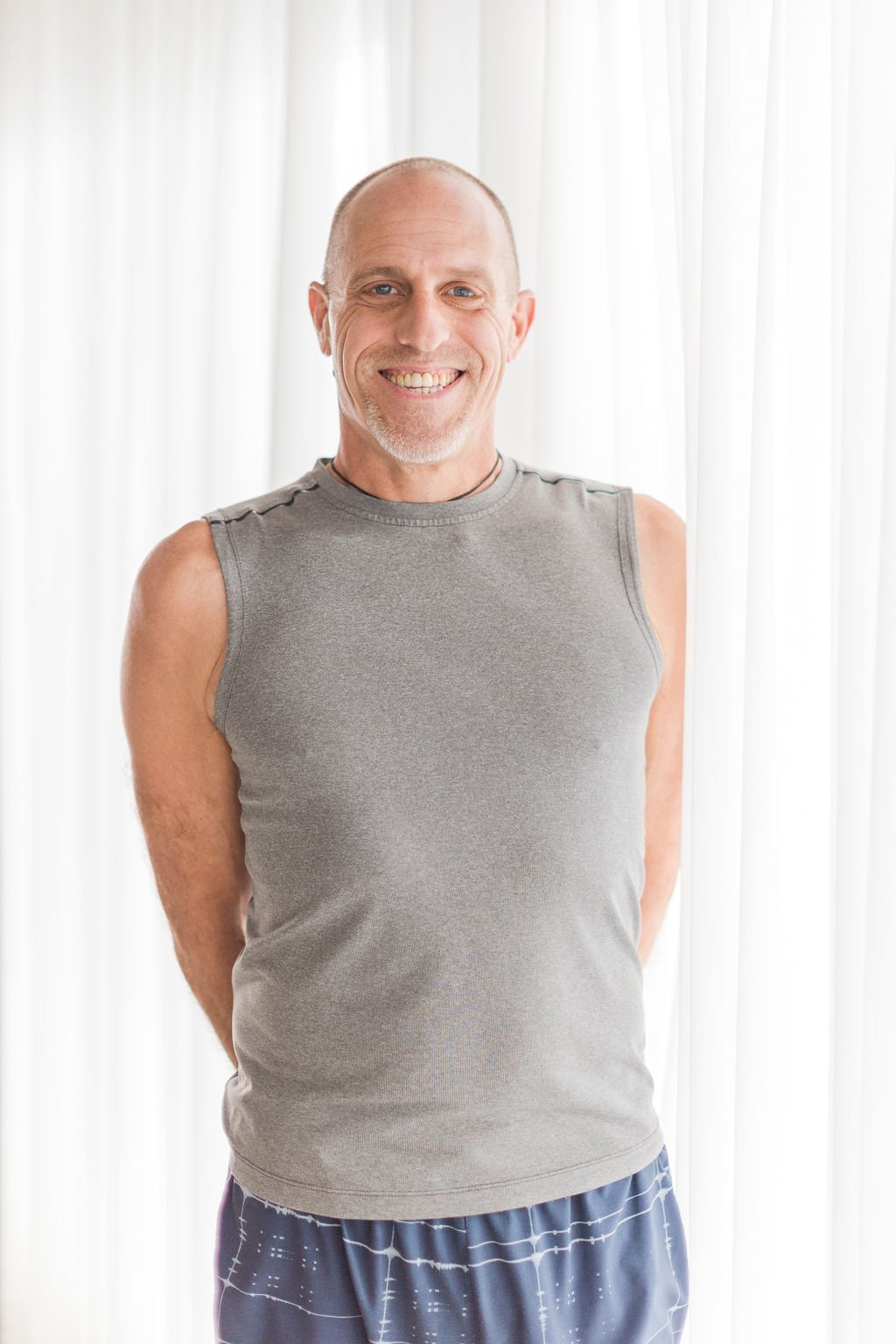 Todd started his yoga journey in2015 on the advice of a friend as a way to relieve chronic pain due to injuries. As his practice deepened, he learned there was more to yoga than just physical benefits, discovering relief from stress and tension with simple movement and breath. He fell in love with yoga and got his 200 hour certification so that he could share the benefits of yoga with others.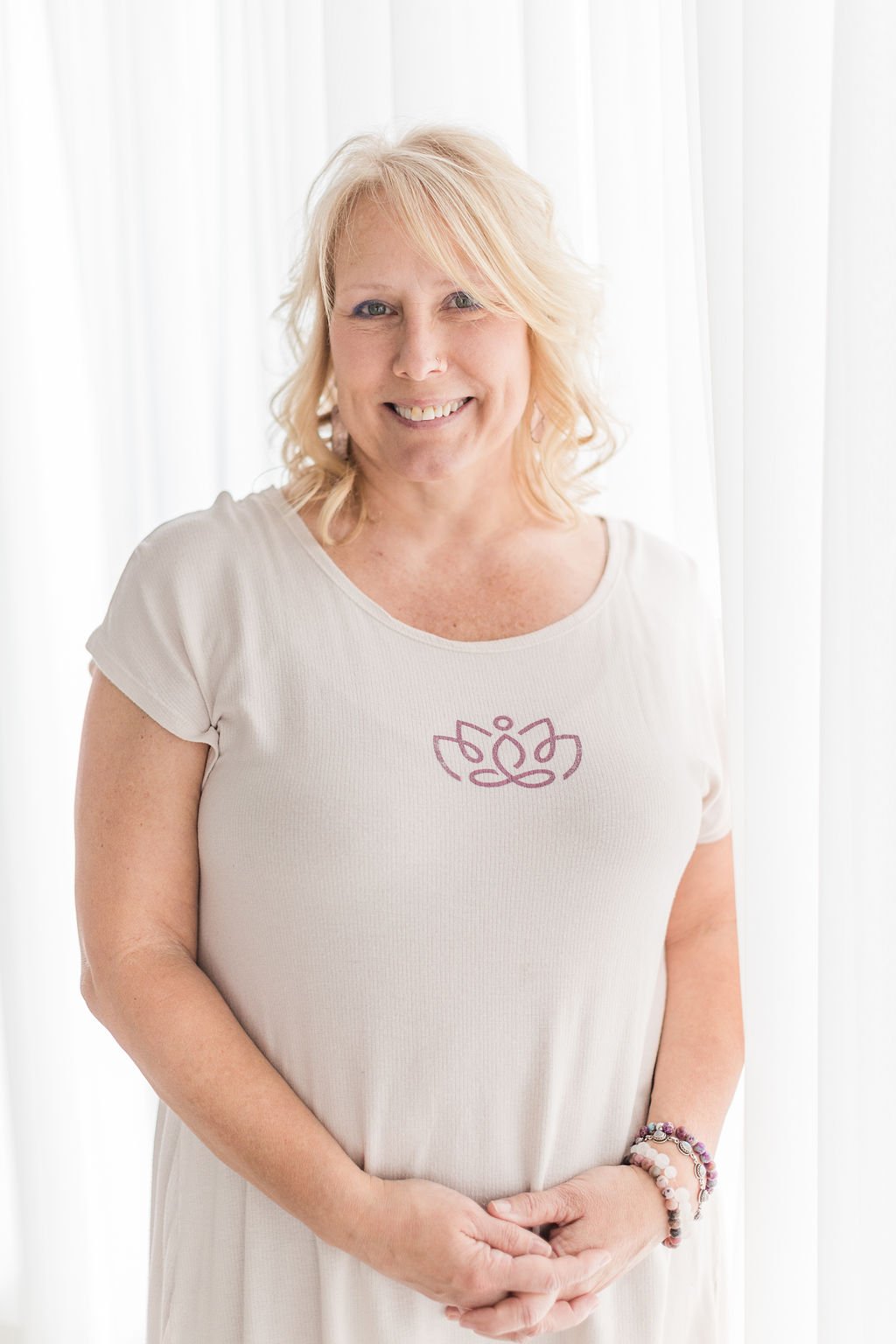 Laurie began her yoga practice in 2000, and through it discovered the gift of mindful presence, which inspired her to explore meditation off the mat. She jokes that while she committed to yoga right away, she flirted with meditation for years before finding a way to practice that was personal, powerful and sustainable. It was in taking the Mindfulness-Based Stress Reduction (MBSR) Program that she found her path. Experiencing the benefits of a dedicated meditation practice that is more a way of being than a thing to do, she felt called to share it with others. She holds Teacher Certification in MBSR from The Center for Mindfulness in Medicine, Health Care, and Society at the UMASS Medical School.
After practicing yoga for 20 years, Laurie completed her RYT-200 yoga teacher training with Blue Yoga Nyla, while founding Mindful State Yoga. She experiences and teaches yoga as a moving meditation and an act of love.
Laurie teaches meditation, yoga, self-compassion, and Mindfulness-Based Stress Reduction programs. She holds a Master's degree in Social Work and is a Psychotherapist and Certified Life Coach. She enjoys collaborating with others in the creation and cultivation of an authentic, empowered and fulfilling life, on and off the mat.